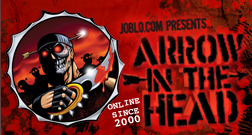 This is a really great review from the Arrow himself, and we appreciate it greatly!! Â Love their site for all sorts of great information horror and otherwise, so it's really cool to be up there too! Â Enjoy this review, and the site too!!
Woooohooo!!
JUICE ON DAVE REDA'S HORROR OF MY LOVE SHORT/MUSIC VIDEO!! – BY: ARROW
I got to take a gander at Director DAVE REDA'S (the lad behind BIT PARTS)Â short film / music video recently called Horror of Our Love and really dug it!…..
Click Pic Above to read the review!!