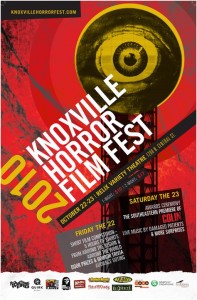 KNOXVILLE HORROR FILM FESTIVAL 2010 accepted HORROR OF OUR LOVE: A SHORT FILM in to this year's festival, and we are so very happy to be a part of the horror festivities!! This looks to be an amazing fest with some great horror fun and films, going to be a great competition, if you are in the area go check it out for sure!!. Thanks to everyone at the festival we know it's going to be a rockin horror weekend!! We will keep you updated on the latest, FEST ON!!!!! 🙂
We play Friday the 22nd go and give some horror love!!
UPDATE: 10/24/10 – WOOHOOO!! WE WON FUNNIEST FILM HONORS AT THE FEST!! THANKS SO MUCH TO EVERYONE IN KNOXVILLE AND THE FEST, TRULY AWESOME!! THANK YOU!!