Archive for the 'Elftwin Films' Category
We are very excited about being an official selection of the Park City Utah Film & Music Festival

It is screening at the lovely Egyptian Theater Friday, May 21, 2010 7:45pm – 8:00pm.

Hope you all have fun with the film!

UPDATE 5 / 25/ 10Â : Category:Â PERFORMANCE/EXPERIMENTAL FILMS

Audience Choice Silver Medal for Excellence :

"The Horror of Our Love: A Short Film" – Music by Ludo, Directed by Dave Reda
WELCOME TO ELFTWIN FILMS,
We truly hope you enjoy the sneak peak of Horror of Our Love: A Short Film by Dave Reda, Song by the awesome band LUDO.
Just go to the SEVERED SECRET VAULT Â and enter your password….
Otherwise hope to see you all at the film festivals coming your way soon and again, we truly hope you have a lot of fun with this!
Dave Reda & Elftwin Films
Hey Horror Fiends,
We are so lucky and you can be too, our friends John Fallon and Arrow in the Head are doing a contest right now too for you to get a sneak peak look at Horror of Our Love: A Short Film. Â This is so cool of them and we have a lot of love for the Arrow. Â It's so amazing to get support for a short film and we can't say enough how much we appreciate all the sites getting involved! So, check out the contest, check out the Arrow's site, and enjoy!
Wooohooo Film Festivals around the corner too, so LOOK OUT!!
From DREAD CENTRAL & ELFTWIN FILMS…CONTEST: YOU CAN BE ONE OF THE FIRST TO GET A SNEAK PEAK AT HORROR OF OUR LOVE: A SHORT FILM…before the festivals before anyone!! ….Wanna know more? Why not check out DREAD CENTRAL!! BUAHAHAH!!! More chances coming soon!!
http://www.dreadcentral.com/news/37369/be-among-first-see-the-horror-our-love-a-short-film
We are very excited to be invited by Dread Central & Creation Ent. Â at their WEEKEND OF HORROR Convention going on this May 21st-23rd 2010 at the LAX Marriott.
Dave Reda will be doing an Indie Panel along with the film Horror of Our Love: A Short Film on Friday the 21st.
This looks like it's going to be an amazing event with guest like Robert Englund (O.G. Freddy!!) , Dario Argento, Jefferey Combs, & MORE!!!!
Check it and us out, hope to see you there!! Wooohoo!!!
Hey guys, this is a cool NEW review of our feature horror film BIT PARTS by the all things horror website HORROR – WEB. Â We here at Elftwin Films can't thank them enough for the kind words, and glad the film is still getting out there to the people! Â Great stuff, check it out!!….
BIT PARTSÂ (2006) posted by :Â The Undead Review
..
.So many indie films have no dedication and no art to what they are doing they just get it done fast and they get it done cheap. I am pleased to announce that BIT PARTS does not fall into this category
…. (READ MORE)
http://www.horror-web.com/reviews/YaBB.cgi?board=Indie;action=display;num=1270693462;start=0#0
_________________________________________________________________________________________________________________________________

Great NEW review from Horror News.net on Horror of Our Love: A Short Film…Just hit the FILM REVIEWS link, and it's under the New Releases!! on the right side! Thanks again for the GREAT review Craig Mcgee and Horror News.Net!! Woohoo! http://www.horrornews.net
Horror of our Love: A Short Film (2010) review by- Craig Mcgee
I haven't had my ass kicked by a short film – of any kind – in years like I have this one.  There are so many, so VERY many, horror-centric gags packed into this one little short film which make it not only entertaining to watch over and over again, but also makes it hilarious to the true fan of the genre to boot…..For more read the review!!!…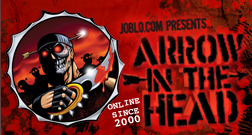 This is a really great review from the Arrow himself, and we appreciate it greatly!! Â Love their site for all sorts of great information horror and otherwise, so it's really cool to be up there too! Â Enjoy this review, and the site too!!
Woooohooo!!
JUICE ON DAVE REDA'S HORROR OF MY LOVE SHORT/MUSIC VIDEO!! – BY: ARROW
I got to take a gander at Director DAVE REDA'S (the lad behind BIT PARTS)Â short film / music video recently called Horror of Our Love and really dug it!…..
Click Pic Above to read the review!!